Tiger and wolves are the one of the worst enemies found in wild and it is impossible to think both of them as friend.
But the opposite happened in a safari where two of them were seen friends in young age. They become since they were couple of weeks old and it's really very incredible for the tourist who come to see them as friend.
Their childhood went wrong as they were separated from their respective mothers and since then they are in the care of The Institute of Greatly Endangered and Rare Species. The purpose of this institute is to bring animals abandoned and provide them the environment in which they can flourish.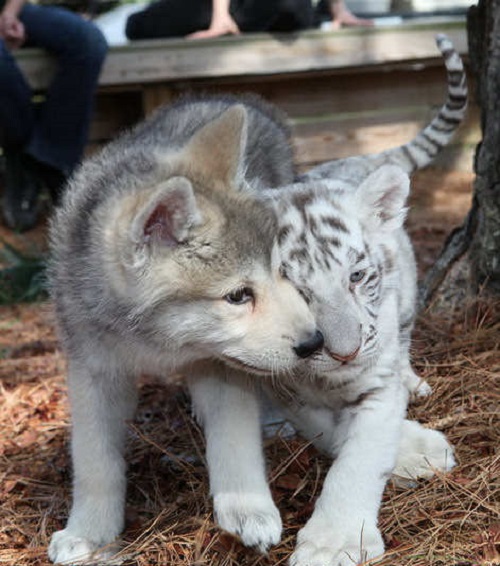 The cubs are unknown of their revelry. They play with each other like any other animals. The Wolves in their early age are bigger than the tiger in size.
At present the wolf is pushier while playing with cub but in the coming months the tiger will gradually grow bigger than wolf. And then the real problem will arise as it will not be possible to keep two of them together as friend.
As of now they are bests friend enjoying each other's company and feeding on same formula milk unknown of their harsh future where they will be made apart.
Related posts